Members of my outdoor group and Cabela's customers often ask for my advice on selecting gear for trout fishing. I decided to put together a little primer to get them started. Hopefully this will be of use to you if you are looking to do some trout fishing in the upcoming season.
I'll focus first on the gear you'll need whether you decide to use spinning tackle or flies. Then I'll cover optional gear that can improve your experience. I'll then discuss rods, reels, lures, and other essential tackle. I'll highlight the specific items and models I own or recommend with photos and links to help you find these items. It is possible to spend a lot of money, but getting into the sport requires no more than a $50 outlay plus appropriate fishing license – if you already hike, camp, or do other types of fishing, you likely have some of the basic gear already.
Gear Essentials
Whether you plan to fish with flies, lures, or live bait there are items you will need for all types of fishing.
Fishing License
A Wisconsin Resident fishing license will cost you $20. To fish on cold water trout streams (any stream shown in color on the trout regulations map), you will need the inland trout stamp, which is $10 extra. If you want to fish on any Lake Michigan or Lake Superior tributaries downstream of the first impassable barrier (dam, lamprey barrier, etc.), you will need the additional $10 Great Lakes stamp. Anyone under 16 years of age does not need a license to fish in Wisconsin. You can purchase a license online at Go Wild. You no longer need the printed license – your driver's license serves as your license.
Be sure to check on the regulations in your state before venturing out on the water. In Wisconsin, the early catch and release season runs from 5:00am on the first Saturday in January until the first Friday in May. The general season runs from the first Saturday in May until October 15. An extended catch and release season is open until November 15 on various Lake Superior and Green Bay tributaries. Be sure to consult the regulations book to make sure you know any special regulations that govern a particular stream. During the early and late seasons, only artificial lures may be used on inland streams.
Hats
Hats can serve three purposes when on the water: sun protection, rain protection, and warmth. I usually wear a baseball cap when fishing, which allows me to attach my GoPro camera to the bill. Baseball caps will help keep your head warm in cooler conditions. However, many trout anglers will wear a wide brim hat in all but freezing conditions. Two excellent wide brim options are the Outback Trading River Guide Mesh Hat and the Outdoor Research Seattle Sombrero. The River Guide hat is great for sunny/warm conditions, as the mesh allows air to flow over your noggin. Because it has Gore-Tex and an insulated lining, wear the Seattle in moderate to cold conditions, especially when it is raining. In freezing weather, a good knit cap or skull cap, such as the Under Armour Infrared Beanie, will do the job. I'll sometimes combine a baseball cap with an ear warmer headband so I can still use my GoPro clipped to the bill.
Polarized Eyewear
Most sunglasses will do a good job protecting your eyes from all the UV bouncing off the water when fishing. Even on an overcast day, your eyes will get very dry and itchy due to sunburn if you don't protect them.
Polarized lenses add the benefit of filtering out a good portion of the light reflected off the surface of the water. This is a crucial component of safe wading in a trout stream or river. Being able to see rocks, drop offs, submerged timber, and other riverbed features may not only save your life, but it will help you spot the places where trout will be hiding.  Being able to see your lure, worm, or fly might allow you to change your retrieve if you see a fish following it.
Today you can get a pair of decent polarized sunglasses for as little as $20. Practically every sporting goods store will have them, and any Wal-Mart or convenience store probably has some, too. When you are ready to get serious about the sport, I recommend investing in a better pair. Serengeti, Revo, Maui Jim, and Ray-Ban all make great sunglasses. I currently wear a pair of Costa Ballasts, and they are pretty amazing.
Upper Body Clothing
Avoiding overheating or hypothermia is pretty important. In a less extreme sense, the more comfortable you are, the more you'll enjoy your time on the water. That means you'll fish more often!

As always, layering is a good idea. In all seasons but the summer, air and water temperatures can change very quickly and widely. I recommend wearing a lightweight moisture-wicking base layer, such as the Under Armour Heatgear Undershirt, in all weather conditions. Add a fleece or fishing shirt over that. My favorite fishing shirt is the Columbia Bonehead long sleeve shirt. It can be worn in hot conditions or layered with baselayers and a fleece vest or parka in cold conditions. Your outer layer in cool or cold conditions can be either a fleece vest, such as the Cabela's Snake River Fleece Vest, or a parka. I am on my second Columbia Whirlibird Parka, and I love it. The only drawback to a full size parka is that it will get wet if I wade deeper than my thighs and don't have it tucked into my waders. The way to avoid that is to go with a wading jacket, such as the Simms Guide Jacket. There are certainly far cheaper models on the market. Wading jackets are cut a little shorter so there is less chance of submerging the hem.

Lower Body Clothing
What you wear to cover your lower body when fishing for trout will vary widely depending on air and water temperatures. You will want to keep your lower body dry when the combined air and water temperature is below about 120 degrees F. Most people don't like to "wet wade" under any conditions. You don't even have to wade in a stream in order to fish for trout. However, wading in a stream makes landing and releasing fish much easier, and it is far easier to keep spinners and other crankbaits deep enough to catch fish.
In cold conditions, your base layers will be identical regardless of whether you wear waders or not. Start with an Under Armour, Heat Last, or Cabela's MTP wicking layer. In temps below freezing, add a fleece layer. If you will be wearing waders, you can stop here. Normal fleece lowers work fine, but consider something like the Cabela's Fleece Wader Pants, which have stirrups so the pants won't ride up as you don your waders. If you aren't wearing waders, almost any long pants will do. However, I usually go with a lightweight convertible pant, such as the Columbia Silver Ridge. These can be converted to shorts as the day gets warmer.
In warmer conditions, you might still wear a thin wicking layer, which can help keep you cool. Convertible pants or shorts work just fine. I sometimes wear my swim trunks when wet wading. The main drawback to wearing shorts or swim trunks in the summer is that your legs can get pretty scraped up from tall grass, bushes, and nettle while getting to the stream. This is where convertible pants come in handy. Wear them long while walking to the stream, and zip off the lower legs before wading. They are light enough that you can just wear them in the stream, too. They'll dry quickly once you are out of the water. The only drawback is that the current will tug harder at your legs.
In cold or warm conditions, you may decide that you prefer wearing waders. Again, if the combined air and water temperature is below 120 degrees, waders are mandatory.

You have essentially four categories of waders to consider:
Neoprene waders will help keep you warm, so a fleece layer is unnecessary. However, they don't breathe so your base layers will typically be soaked in sweat when you take them off. A wicking layer is a must. Neoprene waders are usually less expensive than breathables and will stretch a bit as you move.
Breathable waders are just that – they allow moisture to pass through the material. They are usually made out of Gore-Tex, but some brands have their own waterproof-breathable material. Cabela's Dry-Plus is an example. Most breathables are not insulated, so you would need a fleece layer or long underwear underneath them in colder conditions. Some hunting breathables will have Thinsulate insulation to help keep you warm.
The next decision to make is whether bootfoot or stockingfoot waders are right for you.
The total cost of bootfoot waders will usually be less than stockingfoot waders, even though the waders themselves might be more expensive. Bootfoot waders are bulkier and less suitable to walking great distances before or after wading in the stream. They are also tricky to get the right fit. If you are particularly tall, short, thin, or fat, you'll have great difficulty finding a pair that fits your feet and your body. Being "big" with small feet or "small" with big feet is an even bigger problem. Usually the size of the wader (girth and height) increases with shoe size.
When purchasing bootfoot waders or wading boots, I recommend "lug sole" rather than "felt sole" boots. Felt is impossible to clean thoroughly and allows invasive hitchhikers to be spread from stream to stream. Moreover, many states are beginning to outlaw felt soles for that reason. Wisconsin's ban will be coming soon.
Stockingfoot waders will increase your total cost because you'll need to buy a pair of wading boots to wear over the neoprene stocking. However, they are superior in comfort when hiking and wading over distance. They are also easier to get the right fit because the stocking will accommodate a range of shoe sizes. You then just need to get a wading boot that fits your foot. Simms even has a custom wader program where you can send your measurements, and they'll make a pair that should fit perfectly. This is great if any of your measurements are above the 90th percentile or below the 10th percentile.
Footwear
If you purchased stockingfoot waders, you will need a wading boot. Cabela's has boots starting at $80, but they are often on sale, and the Bargain Cave will have even better deals. I recommend sticking with an inexpensive boot like this unless you are ready to commit to the sport long term. At that point, I recommend investing in the Simms G3 Guide Boot. It is the most expensive boot on the market, but it is worth every penny to be that comfortable all day. I've worn about 6 other models, and there truly is no comparison.
There are two other options for wading and keeping yourself dry: hip boots and rubber boots. Hip boots will allow you to wade thigh deep without getting wet. The LaCrosse Big Chief is a good option. Rubber boots will allow you to wade shin deep while keeping dry. The LaCrosse Grange is one of the most popular rubber boots on the market. As you will note, hip boots and rubber boots are almost as if not more expensive than waders. Moreover, it is not uncommon when wading in a stream to reach a spot that is belly deep with high banks. Without chest waders, you would have to walk back until you can find a spot to get out of the stream and walk around the deep spot. I recommend sticking with waders unless you already happen to have a pair of hip boots or rubber boots.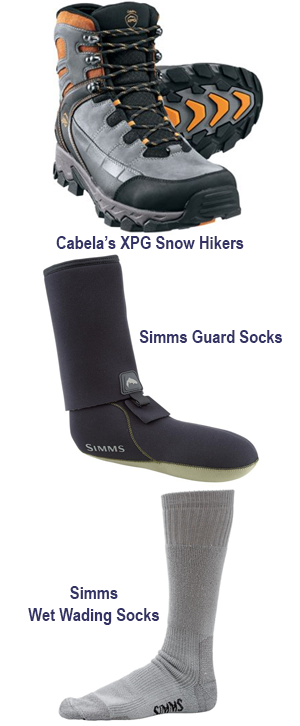 If you plan to fish from the riverbank and not wet your feet when there is snow on the ground, you'll need a good winter boot. If the snow is deep, you'll probably need snowshoes, so a winter boot should have a snowshoe strap lip on the heel and d-ring for gaiters just below the laces. I own a pair of Cabela's XPG Snow Hikers and have been pleased with them so far.
If you decide to wet wade in warmer conditions, a pair of old sneakers is sufficient to protect your feet. Sandals, such as the Keen Newport H2 will work to protect the soles of your feet. However, you will get small rocks pinned between your feet and the sandal. I recommend a pair of water shoes, such as the Simms Currents, or a pair of neoprene paddling shoes/boots, such as the NRS Kicker Remix Wetshoe. The Kickers will also help keep your feet warm. Spring creek water will still be as cold as 50-55 degrees in the summer. To combat cold feet and protect your feet the best while wet wading, you can wear your wading boots with a pair of neoprene guard socks. You'll wear a pair of wool or synthetic hiking/wading socks underneath the guard socks. The guard socks themselves insulate your feet while keeping grit and rocks out of your wading boots.
Storage Boxes/Cases
You'll need something to store lures, flies, split shot, hook, and swivels. Nothing will ruin a nice day on the water like being without small items whose supply you just exhausted.
The simplest tackle boxes are Plano Pocket Stowaway boxes. Nearly every sporting goods store, hardware store, and big box store with a sporting or hardware department will carry these. Menard's has them for the lowest price I've seen. You'll often get these with larger tackle or tool boxes. I have a pair of these I use when fishing with spinning tackle.
If you commit to learning to fly fish, my favorite fly boxes are the Scientific Anglers fly boxes and Tacky Day Pack series. I am gradually shifting from the SA boxes to Tacky because they are thinner and the self healing silicone is the best material for attaching your flies.
Nippers
You'll be constantly tying on new swivels, lures, flies, or hooks as you try new techniques and lose these items to fish and snags. Thus, being able to quickly clip something off your line or clip the tag end of a knot is very important. A simple nail clipper will do the job, but you can get nicer ones that also have additional features such as a needle for cleaning up the eye of a hook or a nail knot tool. I currently use a pair of Simms Nippers, which have the unique feature of replaceable blades.
Forceps/Pliers
A good pair of pliers or forceps is one of the most important tools you can carry while trout fishing. Being able to pinch down the barbs on hooks or spinners (which is required in some states, especially during catch and release periods) is a key reason you'll need a pair. The uniformly important reason to have one is for removing hooks from trout you've caught. Trout will manage to entirely swallow spinners and crankbaits that move quickly and barely fit in their mouths. A normal pair of needlenose pliers is sufficient for pinching barbs and reshaping or fixing hooks. However, I do recommend a surgical hemostat or forceps designed specifically for fishing. Even needlenose pliers can be too blunt an instrument for getting a hook out of a trout's gill area. I own the previous version of the Rapala Plier/Forceps Combo. The pliers are excellent and the forceps haven't failed me yet. They come with a lanyard for securing the forceps to your vest.
Thermometer
Trout are very sensitive to temperature and pressure changes. Just like with smallmouth bass, a front that brings a sudden pressure shift can instantly shut activity on or off. Trout will only be active and/or feed at 40 degrees F and above. This is partially because insect activity is very minimal below that temperature. Above 65 degrees F trout will again get sluggish. Moreover, fighting an angler at 65 to 70 and above can be fatal. The lactic acid buildup trout experience from the trauma of being hooked, fought, handled, and released is no problem in cold water. When it's warm, that buildup will kill a fish 10 minutes after you release it even if it seemed fine as you released it.
As mentioned above, you'll need to stay dry when the combined air and water temperature is below 120 degrees. Your car or watch's thermometer or smartphone will tell you the air temp, but you'll need a thermometer to know the water temp.
For all these reasons, knowing the temperature of the water is crucial to your success and comfort. Almost any analog or digital thermometer will work. I use the Fishpond Swift Current Thermometer. I also have a thermometer in my Casio Riseman Watch. It takes longer to get a reading while submerging my hand for a couple minutes. The watch also alerts me to changes in barometric pressure.
Lanyard/Retractors
You'll need a way to keep your nippers, pliers, and/or forceps handy but prevent them from getting lost in the water. You can simply use some paracord or rope to attach these items to your vest or pocket, zippers, or loops on a shirt or jacket. However, there are plenty of lanyards and retractors on the market that will keep the items out of the way when not in use.
Water Bottle/Hydration Bladder
Staying hydrated, especially during the summer, can be a challenge. You can drink small amounts of stream water, but anything more than a few sips here and there will eventually get you sick. The only exception to that is the most remote mountain streams when fed primarily by melting snow. No matter how clear and clean a stream appears to be, it will have plenty of cysts and bacteria in it.
I carry a bottle of Gatorade or a wide mouth Nalgene bottle filled with water when I'm out on the water. Another good option is to put a hydration bladder (such as a CamelBak) in a rear pocket or pouch in your fishing vest. A number of newer sling packs have a hook and pouch for hanging your bladder inside, such as the Umpqua Zero Sweep. You could even just wear a small hydration backpack, such as the CamelBak MULE.
Optional Gear
Gloves
In cold conditions, having a standard pair of gloves to wear while walking to and from the stream is helpful. However, there are plenty of gloves on the market specifically made for anglers. Specifically, fingerless gloves are a good compromise between warmth and dexterity. I have a pair of Cabela's Guidewear 1/2 Finger Fishing Gloves. They take the edge off in cold conditions but still allow me to tie knots, handle fish, and manipulate line and reels. In warm conditions, you may want a pair of gloves to shield your hands from the sun. Simms Solarflex Guide Gloves are a good choice.
Vest/PFD
It is important to carry everything you need for a few hours of fishing on your person. I sometimes cover miles of a river or stream in a day, and the last thing I want to do is stop fishing just because I am missing or exhausted the supply of something I need.
A good fishing vest is one of the best investments you can make. You can get a decent vest on eBay or Craigslist for as little as $10 or $15. Fishpond and Simms make the best higher end vests. I currently wear a Fishpond Sagebrush. It has tons of storage space without being bulky because of the mesh construction. The mesh helps keep me cool when it is hot outside, but doesn't add bulk if I am bundled up in cold weather.
Another option instead of a vest is a sling pack. These are becoming more popular. Simms, Umpqua, and Fishpond all make very good packs.
If you will be fishing out of a kayak, canoe, dory, or fishcat or paddling to spots and wading in swifter current, you might prefer a fishing PFD (life jacket) in those situations. I have the Stearns Hybrid fishing PFD. It has open shoulders so I can flycast and paddle without my movement being restricted. It also has a built-in fly tray, retractor, and many lashpoints and pockets. Another great option is the NRS Chinook.
Net
I usually carry my net with me while fishing for trout. I only bother using it on bigger fish to make sure I can land them successfully. There are tons of nets on the market. Cabela's, Frabill, and Fishpond all make good nets. Just make sure your net has a rubber or rubber-coated basket to protect the trout's slime layer. Nylon or cloth baskets will remove much of it. The basic net I recommend is the Cabela's Rubber Landing Net. Normally $40, this net is always on sale for $20. I was pleased with mine until I upgraded to the Cabela's Burl Handle Landing Net. This net has a rubber-coated cloth basket. It looks beautiful, and I've enjoyed it thus far. On my wish list is an upgrade to the Fishpond Nomad. These nets have carbon composite handles and look gorgeous.
If your net does not come with a lanyard and/or net release, that is something you will need to purchase. Fishpond, Simms, and almost every other fly fishing vendor make good net releases and lanyard. I prefer magnetic releases. The magnets are strong, and they make it easy to attach and detach your net from your vest's D-ring.
Wading Staff
When fishing in swift current or streams with rocky beds, a wading staff might save your life. Having a third leg can be very helpful. In Wisconsin, fishing on the Flambeau, Wolf, and Peshtigo Rivers demands a wading staff. You can just use a trekking pole for this purpose if you already have one or two of those. I own a Hammers Wading Staff, and I have been pleased with it so far despite some bad reviews I've seen of it. The Simms Wading Staff is clearly the best one on the market, but it's pricey.
Waste Disposal
I have run into plenty of lures, hooks, bobbers, and fishing line left on trout streams over the years. I guess it's excusable when it is up in a tree or on a far bank and the angler didn't have the means to wade (another reason why being able to wade is important). But most of the time, a person could have easily picked up their mess.
You can always put your excess line and other waste in a pocket, but there are two good options on the market. The Fishpond Piopod is an acceptable option. It can be hard to feed line into it, however. For this reason, I upgraded to the Monomaster. This item has a spindle with brushes on it that catch line and allow you to spin and roll it up inside.
Waterproof Case
If you plan to bring your smartphone, camera, or iPod on the water to listen to music while fishing, take photos, or record your GPS track, you'll want to protect it. You can also store matches, currency, toilet paper, and your identification or fishing license in a waterproof case. Pelican makes great waterproof hard cases in various sizes. I have a couple of those. When trout fishing, I usually protect my phone with a Dry Pak soft case. These come in various sizes and allow you to manipulate your phone through the front plastic. You'll need to get their camera case if you want to take picture while protecting the device. I have a Galaxy S5, which is already waterproof. I don't have to worry that much if I take it out to take pictures.
Sunglass Strap/Float
A lanyard for float for your sunglasses is always a good idea. For whatever reason, few sunglasses float. Thus, keeping them on your head is helpful. There are tons of sunglass straps on the market. Chums and Croakies are two notable brands. I have a hides H20 Retainer. The float can be removed if you don't need it.
Headlamp
If you plan to fish at or near dawn or dusk (or at night where permissible by law), a headlamp is a great item to keep in your pocket. It frees your hands up to manipulate your gear, land and handle fish, and avoid walking into trees. You can get functional head lamps for as little as $10. I currently use a Cabela's XPG headlamp, which is actually made by Princeton Tec.
Snowshoes
If you are fishing during the early catch and release season, a pair of snowshoes might make your day a lot easier. I've been in my waders and wading boots while trudging through deep snow a few times. Needless to say, I'm lucky I didn't have a heart attack. Snowshoes vary widely in style and cost. The pair that is currently on my wishlist is the MSR Lightning Explore. These have ratchet buckles, which are way easier to get on and off.
Gaiters
If you will be using snowshoes, you'll want a pair of winter boots with snowshoe lips on the heel and d-rings below the laces to help secure a pair of gaiters. REI, Outdoor Research, and Cabela's have good gaiter options. Being a bigger guy with solid calves, I need the Mountain Hardwear Pinnacle Stretch XT to fit over my lower legs. All other brands don't fit me.
Whew! That wraps up the gear you'll need or want regardless of what tackle you choose to fish for trout.
Selecting Rods and Reels
When angling for trout, there are four basic systems you can use:
Spinning rod and reel for drifting live bait
Spinning rod and reel for presenting artificial lures (spinners, crankbaits, and jigs)
Fly rod and reel for drifting live bait
Fly rod and reel for casting and presenting artificial flies
Whether you are presenting live bait or artificials, the rods and reels you will select for each style of fishing will be roughly the same.
Spinning Rods
When selecting a spinning rod for trout fishing, there is a key tension of which to be aware. Many trout anglers will use the lightest tackle possible so that fighting small fish is more fun. However, long fights on light tackle will fatigue smaller fish enough that they are likely to die after release. Even if you will be keeping fish, you are still likely to fight some trout that are under the size limit. Therefore, I recommend using a medium weight (AKA medium power) rig so you can get fish in quickly and increase the likelihood they will survive.
Considerations when selecting your rod are as follows:
Rod length – longer rods for larger streams and rivers, shorter rods for smaller creeks. Choose a rod between 5'6″ and 7′ in length.
Handle construction – cork or foam/synthetic? Cork usually adds $10 to the price of a rod.
Number of pieces – 1 piece rods are difficult to transport and store, 2 or 4 piece are good for travel.
Rod action – Faster actions allow longer casts, especially when it is windy.
Rod weight or power – ultralight through medium (discussed above)
I generally recommend a 6'6″, 2 piece, medium weight, fast action, cork handle spinning rod as a good starter. A rod like this will work for using live bait or artificials. The two rods I specifically recommend are the Berkley Lightning Rod LR662MS (cork handle) and Shakespeare Ugly Stik GX2 USSP662M (foam handle). Both retail for around $40 and match the specs above. Watch for Cabela's sales and bargain cave specials, and you can pick up either of these or better rods for even less money. Obviously there are more expensive rods on the market, but they are overkill for trout fishing.

This length, weight, and action are also suitable for bass and walleye fishing. Thus, you don't necessarily need a new rod for trout if you already own a spinning rod. The medium weight also allows you to successfully land much larger trout if you are lucky enough to induce them to strike. I prefer cork because it is self-healing and naturally antibacterial. Foam and other synthetic handles get pretty nasty over time. The 6'6″ length is long enough to get good leverage on longer casts, especially in windy conditions, but short enough that you won't get tangled in too many branches on small streams. 2 piece rods travel well – 4 piece rods are usually a bit more expensive and unnecessary unless backpacking or traveling by plane.
Spinning Reels
It is possible to spend a lot of money on a spinning reel. Because you'll rarely hook into anything in northern waters that will run on you, most of the extra features and quality that money will be overkill for inland trout. Thus, going with a basic spinning reel of moderate quality is your best bet when getting started.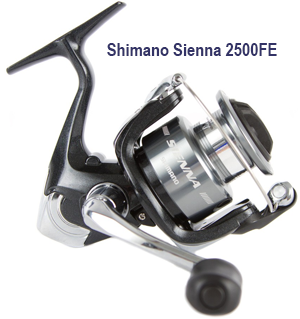 I generally recommend the Shimano Sienna series when getting started. Regardless of the brand and model you choose, you'll want something with one of the following in the model number:
100/1000
150/1500
200/2000
250/2500
I recommend getting a reel that has 250 or 2500 in the model number. This will typically hold around 140 yards of 8 lb test line, which I use on my trout, bass, and walleye reels. This will allow you to use the same reel for going after all northern species except Pike and Musky. My specific recommendation would be the Shimano Sienna SN2500FE. It will typically run about $30, but you can often get it on sale for about $20.
If you spend more money on a spinning reel, the two major improvements will be in quality of the construction (more metal, less plastic) and smoothness (more ball bearings).
Spinning Combinations
There are numerous rod and reel combinations on the market from Cabela's, Shimano, Shakespeare, Abu Garcia, and Fenwick. Combinations will often save you about $10 to $20 compared to separately purchased rod and reel. Cork handle combos are harder to find, but there are plenty of foam and rubber handle combos available. You can often get these for $30 to $40. You'll usually get reel that is inferior to a Sienna with these combos. However, adding a Sienna or better reel is a good upgrade to make after you commit to the sport and gain experience.
When it comes to spinning rods and reels, you can always go lighter than my recommendations if you want every fish to seem like a monster. The cost of that enjoyment is an increase in the amount of trout mortality you may cause. It's up to you.
Line for Spinning Rigs
When selecting line for trout spinning rigs, I usually go with 8 to 10 pound test clear monofilament. Most trout  anglers seem to prefer 4 to 6 pound test. The heavier line serves three purposes:
I can use the same line when fishing for bass or walleye without respooling or needing spare spools.
The increased strength is helpful for retrieving lures if they get snagged.
I can land fish more quickly to reduce mortality.
You can certainly use anything from 4 to 10 lb test in any color, including fluorocarbon or braid with a mono leader. The main advantage braid gives you is rarely realized on a trout stream – increased casting distance and toughness. Clear mono seems to be the most stealthy as well. I use Berkley XT 8 or 10lb on my trout reels.
Fly Rods
If you decide to try your hand at drifting worms with a fly rod, just about any rod and reel in a 4 weight or above will work. However, if you plan to learn to fly cast using artificials, you'll need a decent rod. A good rod will cast better and reduce the fatigue you'll experience from casting all day.
Considerations when selecting a rod for trout angling on a fly include:
Rod length – Longer rods cast more easily and are suitable for larger rivers, shorter rods are good for smaller streams.
Rod weight – The size of the flies you will use, the size of the trout you expect to catch, and wind conditions dictate the weight of the rod. For trout, 1 through 6 weight rods are typically used.
Rod action – slow through ultra fast – the faster the action the easier the rod casts long distances and punches flies into wind. Faster actions are typically stiffer the closer you get to the butt.
Number of pieces – Most modern rods are 4 piece, but you can get 1, 2, 3, and 6 piece rods. The more pieces, the more compact and easier a rod will travel. Both 4 and 6 piece rods are small enough for backpacking or plane travel.
My general recommendation for a beginner would be a 5 weight, fast action, 9 foot, 4 piece fly rod. You should be able to get this configuration in just about every fly rod series on the market. Two excellent starter rods would be the Cabela's TLr 905-4 ($140 but often on sale) and the St. Croix Rio Santo 905.4 ($130). You'll be able to fish for trout in almost all types of streams and weather conditions with this configuration. You can even throw poppers and bass bugs with a 5 weight rod.

Spending more money on a fly rod will increase the quality of the materials and construction and generally improve the action and castability of the rod. Lower end rods tend to be slow through medium action. Once you gain some casting skill, you will be able to tell how much better and easier your casting can be with an expensive rod. Most outfitters will let you test rods on-site to get a better feel for each rod. The next step up from the rods I recommended above would be the Cabela's Theorem and St. Croix Imperial series. Beyond that, you are into real money with rods from Sage, G. Loomis, and Orvis.
Fly Reels
When fishing for inland trout (as opposed to steelhead and other anadromous trout), the quality of your fly reel is fairly irrelevant. Unless you hook into fish longer than about two feet, you won't use your reel to fight it. Most of the time, you will just strip your fly line in to land a fish. Your reel is mainly for line storage.
Most reels you'll purchase to match a 5 weight rod will be designed to hold 5 or 6 weight line. A good basic reel is the Cabela's Wind River #2 ($40 or less). I owned one of these for a few years and was perfectly happy with it. Another excellent starter reel is the Ross Flystart #2 ($50). The next step up in quality is the Cabela's RLS+ 2 ($130 or less), which you can get as part of a combo with a decent starter fly rod for $170 or so. I currently have an RLS+ 1 on my 4 weight rod and have been pleased with it so far.
As you spend more money, you'll get better materials, better drag systems (important for fish that run such as steelhead and salmon), and more beautiful finishes.
Fly Combinations
To save a little money and hassle, you might consider a fly rod and reel combo. These combos will often come pre-spooled with the appropriate backing, fly line, and leader you need to start fishing. Some will come with a case with built-in reel pouch. Other combos will also include some of the other tools and accessories you'll need. The previously mentioned RLS+ combo is an excellent starter package. It comes with a case and pre-spooled backing, line, and leader.
Backing, Fly Line, and Leaders
If you don't purchase a pre-spooled combo, you will need backing, fly line, and a leader on which to tie your flies or hooks. Just about any brand will have good options, but my recommendations are below. They all assume a 5 weight, 9 foot rod is what you'll be loading.
As your casting improves or if conditions dictate, you might consider 9 foot leaders or use tippet to extend your tapered leaders. You might also upgrade to Scientific Anglers Sharkwave Fly Line ($100). It's truly amazing how much better it casts than anything else on the market. It sounds awesome slipping through your rod guides, too!
If you stop in to the fly shop at your nearest Cabela's, the fly shop outfitter can help you find all these items and rig up your reel with backing, fly line, and leader for no extra charge.
If you will be drifting live bait on hooks, you can spend less on line and leaders. Your leader can just be a length of clear 4-8 lb mono to which you attach your hook.
Terminal Tackle for Trout Fishing
Once you've selected your spinning rod and reel or fly rod and reel and spooled it up with the appropriate backing, line, and/or leaders, it's time to think about what you will present to trout, how you'll make sure they see it, and how you'll detect a strike.
Terminal Tackle for All Situations
You'll need the following items no matter which of the four basic techniques you plan to employ:
Sinkers – split shot, preferably non-lead, is the most common type of sinker. You'll need sinkers to get live bait, wet flies, streamers, and nymphs down deep, especially in deeper pools. Some anglers will use split shot to help spinners and crankbaits get deeper. I avoid using extra weight when fishing with spinners because they throw off my casting accuracy.
Bobbers – OK, strike indicators! When using subsurface presentations with live bait or flies, strike indicators will help you keep the presentation at a uniform depth. This will help prevent snags while allowing you to detect a strike. This is especially important when fishing with nightcrawlers or leaches. The fish will tend to swallow the hook if you don't set it quickly after a strike. The most popular indicators are Thingamabobbers, which come in different sizes and colors. I rarely use indicators since I don't fish with live bait or nymphs and can usually detect a strike by watching the end of my fly line.
Terminal Tackle for Live Bait
When drifting live bait with a spinning rig or fly rod, you'll need two things:
Hooks – snelled hooks in sizes 4-10. Pinch down the barbs to make it easier to release and avoid killing smaller fish.
Bait – nightcrawlers, waxworms, leaches, minnows, crickets, beatles, grasshoppers, or anything else you can skewer with a hook
Terminal Tackle for Spinning With Artificial Lures
When using spinning outfits to fish with artificial lures, there are a number of options. You may wish to put a snap swivel on the end of your line to make changes lures easier and quicker. Swivels will help minimize twist in your line which  in turn avoids tangles and bird's nests. However, swivels can prevent a spinner from spinning properly. When using spinners, you may wish to use a Duolock Snap or No-Knot Fast Snap instead.
Whether you use a snap, swivel, or tie a lure directly to your line, here are some of the common artificial lures you may employ:
Spinners – There are many spinners on the market. Some anglers swear by Mepps or Blue Fox, but I have personally had success with Panther Martins. Specifically, I have the most success with Size 4 (3/8oz) Panther Martins with either a gold blade and black body/yellow spots or silver blade and yellow body/red spots as pictured. Size 4 Panther Martins are big enough that you'll avoid catching too many tiny fish, and they're easier to cast accurately than lighter versions. You can go smaller on small streams where small brook trout might be all that are present. Cast upstream and retrieve spinners at a slight angle to and slightly faster than the current. Let them sink for a moment before beginning your retrieve. Add split shot 6 to 12 inches up from the spinner to help get it down deeper if needed. I usually don't bother because of their negative effect on casting accuracy.
Crankbaits – Rapala-style crankbaits can be successful, especially for bigger browns and rainbows. One of my students swears by Rapala Ultralight Minnows.
Jigs – One of my Trout Unlimited friends has used jigs with nightcrawlers, fuzzy grubs, or bare for years. He seems to catch some sizable fish with those techniques. He retrieves with a normal jigging motion, sometimes just letting it drift and bounce along the stream bottom. I've caught a number of steelhead over the years with this technique.
Terminal Tackle for Fly Fishing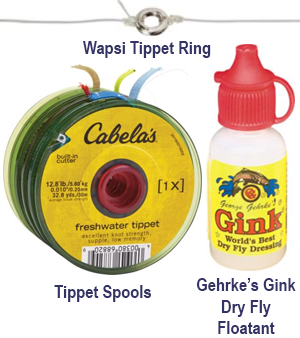 There are three items you may need regardless of which flies you choose to throw:
Tippet rings – These small rings can be attached to the end of your tapered leader to make switching or replacing tippet faster and easier. You can also attached a dropper fly to a tippet ring (instead of tying it on the bend of your floating fly's hook). Wapsi Tippet Rings work well.
Tippet – Spools of tippet will allow you to make your tapered leaders last longer, especially when combined with tippet rings.
Floatant – Even perfectly designed and constructed dry flies may need some floatant to help them stay on top of or in the surface film. Gehrke's Gink is popular and effective.

Now you're ready to tie on some flies. Here are some of the basic types:
Dry Flies – If you notice fish taking on the surface, you may want to go "pure" and throw some dries. I personally prefer dries even if fish aren't rising because I enjoy the Zen of it. I generally cast Adams, X-Caddis and Elk Hair Caddis, Rusty Spinners, and various hopper patterns in late summer.
Wet Flies – There are a number of patterns of wet flies, such as the Partridge and Orange. I don't usually fish with any wet flies except streamer patterns discussed below.
Nymphs – If you want to catch the most fish, nymphs are likely to be the most successful. Patterns such as the Hare's Ear Nymph, Pheasant Tail Nymph, and Pink Squirrel are popular. I am not results-oriented enough to do any nymphing. I personally don't like using split shot and strike indicators.
Streamers – When I'm not throwing dry flies, I am usually using streamers such as Woolly Buggers and Mickey Finns. Occasionally I'll throw some Clouser Minnows, especially if I am out of the first two. Clousers are primarily a bass and bonefish fly, but they can yield some big brown trout. You can use split shot and indicators with these or just watch the end of your line carefully. Since you typically strip line in to retrieve streamer patterns and make them act like baitfish, you are likely to feel a strike every time you strip in some line.
Of all the patterns mentioned above, I only tie Adams, X-Caddis, Rusty Spinners, Woolly Buggers, Mickey Finns, and Clousers. I'll use other patterns I happen to purchase or receive as gifts. There are literally hundreds of common patterns out there, so experiment. I think accurate casting, drag free drifts, and fishing during the right weather conditions will have more bearing on your success than the specific pattern and color. If trout will hit that gaudy #4 Panther Martin, I am pretty sure they'll hit anything presented properly.
Get Out There!
As with any sport or activity, you can certainly spend hundreds of dollars on equipment. To get out there, you really only need a spinning rod and reel, line, some spinners, a small tackle box, forceps, nippers, and some proper clothing and footwear. You can always fish from the shore even though wading in the stream makes things a little easier.
Buy some of the basics and try it out. Once you're "hooked," you can spend some serious coin on all the bells and whistles. There is no shortage of awesome gear to obtain.